Core Services
We are proud to offer the following services...
Go to Machining
Machining
We prefer conventional machining methods and are competitive with prototypes and small runs.
Welding
We are a certified CWB W47.1 Division 2 facility. Our welders are proficient with stainless steel, mild steel and aluminum.
Go to Powder Coating
Powder Coating
Our in house powder coating enables us to finish your parts with a high quality durable finish.
Here's a breakdown of our core services & equipment
If we can't do it all, we know where to get it done.
Trumpf 3030 CNC Laser (4000 watt)
Trumpf 600L rotation CNC Punch press and Laser combination
Trumpf 200 rotation CNC Punch press x 2
Trumpf 120 rotation CNC Punch press
Flowjet 6012 water jet 12' x 6' table
Trumpf C60 6ft Brake Press – 66 Ton
Trumpf C120 10ft Brake Press – 130 Ton
CNC DAVI 4-ROLL Plate Bending Machine – 1/8 Steel 5ft Long
Haco Euromaster 10ft Brake Press – 120 Ton
Piranha 50 ton Iron worker
350/300/200 Miller Dynasty welders
255 Lincoln Migmatic welders x 2
350p Miller push pull welders x 2
Portable Miller 250e welder
Vertical band saw x2
HAAS VF2 20HP Verticle Machining Center
Horizontal Bomar band saw
Tos Lathe 60" centers – 32" swing
CNC Punching/Cutting, Bending, and more

Conventional Lathes and Mill for small volumes.

CWB W47.1 Div 2 Certified Welders

Finishing Services to provide a layer of protection to your products.
Latest news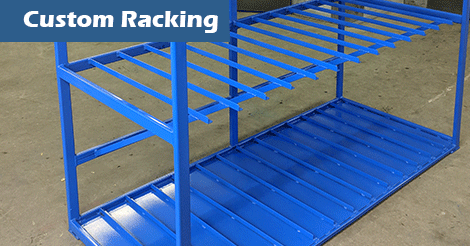 Now that we have our own powder coating setup, we took the opportunity to make up our own racks for sheet metal storage.
Pretty handy. Read more about New Custom Racks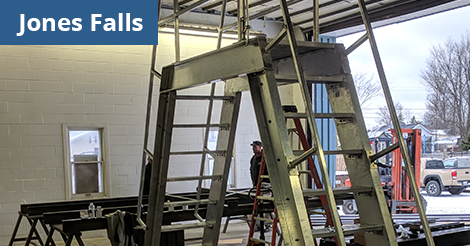 We recently completed a complex job at Jones Falls for Parks Canada, where we modified and replaced portions of the thimbles at the pen stocks, as well as fabricating and installing a walkway over the penstock.
Previous
Next